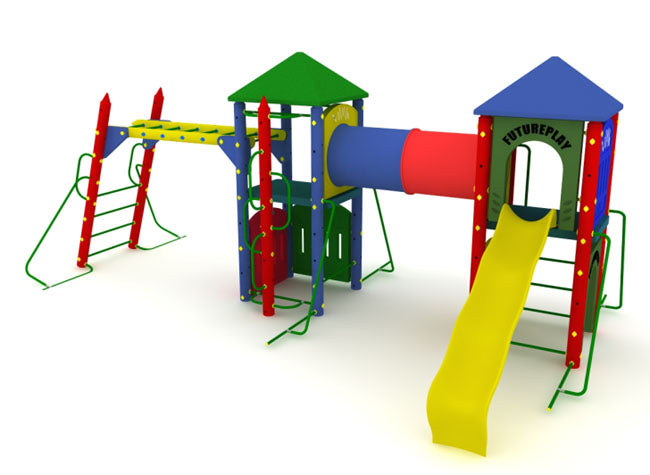 Click on image to zoom
Professional Installation Services
WillyGoat is proud to offer installation throughout the United States for most items. Request a quote today for pricing!
4-Crayon Tower (2)
Pyramid Roof (2)
5' Play Deck (2)
10' Slide (2)
Slide Entrance Panel (2)
Mouse Holes (1)
Slotted Panel (1)
Activity Panel (1)
commercial applications - steering wheel
residential applications- periscope
Tic Tac Toe Panel (1)
Bubble Panel (1)
Crayon Picket Panel (1)
Straight Crawl Tunnel, 86" long, 30" diameter (1)
Climbing Wall (1)
Crayon Loop Climber (1)
Hand-Over-Hand Bars / or Swing Arm (1)*Residential sets only
Swing arm option includes (2) belt swings *Residential sets only
Outside Climber (1)
Outside Climber Support* (2)* ONLY RESIDENTIAL MODELS ARE ELIGIBLE FOR SWING ARM OPTION"
Age Range
5 to 12 years old
Equipment Weight

1250 lb

Deck Height
60 in
Fall Height
60 in
Installed Dimensions

28 ft

x

16 ft

x

12 ft

Slide Count
2
Made In USA
Lead Times
Please check the "Ships In" lead time above for this particular product -- many of our commercial play equipment items are made to order
Once the item has shipped, you will receive a tracking number and important instructions for unloading
Ship dates are a best estimate and not guaranteed
Shipments can take up to 10 days in transit
Products that are ordered from the same manufacturer will ship according to the longest lead time for those products. If a quick ship product is required to ship sooner, please let us know, though you may be required to pay extra for separate shipments.
Receiving
Every order with complex shipping requirements receives shipping instructions.
Unless a loading dock is readily available, this equipment ships via curbside delivery.
Commercial play systems generally benefit from having a forklift for unloading, which is typical in the industry.
There are many instances where the crates and pallets can be pulled apart by hand and unloaded as well, but a forklift is generally the quickest way to unload the product and is what trucking companies recommend to avoid possible detention charges (unloading that takes more than 3 hours)
Please see our FAQ and Shipping Policy for more information.
Payment & Security
Your payment information is processed securely. We do not store credit card details nor have access to your credit card information.